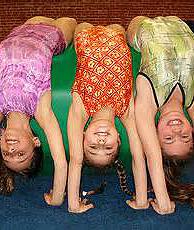 Ms. Carol's GYMKIDS – Camps
GYMNASTICS SUMMER DAY CAMP
OPEN GYM (non-instructional) 90 MINUTES of FUN!
All students ages 4 and UP are welcome to come and play and socialize in our OPEN PLAY & organized obstacle courses & games.
Non-members welcome.  Pay cash at the Front Desk  
If you have questions, please call us at 480-777-1033. 
$10 PER CHILD
Tell your friends!   All are welcome ages 4 & up!
SUMMER SCHEDULE FOR "OPEN GYM" DATES & TIMES:
| | | | |
| --- | --- | --- | --- |
| JUNE 7th | TUESDAY | 11:00AM – 12:30PM | $10 |
| JUNE 14TH | TUESDAY | 11:00AM – 12:30PM | $10 |
| JUNE 21ST | TUESDAY | 11:00AM – 12:30PM | $10 |
| JUNE 28TH | TUESDAY | 11:00AM – 12:30PM | $10 |
| | | | |