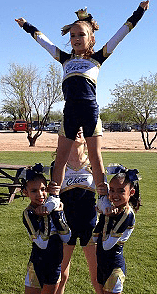 Ms. Carol's GYMKIDS – Cheer Class & Clinics
Cheer Class, Summer Camp & Clinics!
We are an official member of the USASF Cheerleading Federation.
Click Here To Fill Out Our Registration Form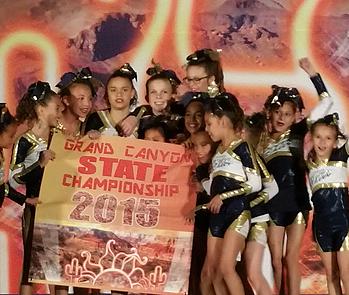 Our cheer teams work on tumbling, stunts, jump techniques, chants, cheer dance and more!
We are excited to begin a new season with our Recreational POWER CHEER team!  Our 

Saturday

 

11 AM

 classes are for ages 7 to 15 years old.
We also recommend that you SIGN-UP for our monthly BACK  HANDSPRING CLINICS that is held on the last Saturday of every month (usually from2:30-4:30 PM).
Please call us for more information (480) 777-1033.
SCHOOL TEAMS:
Cheer teams who are looking for a gym, to work on tumbling skills, can give us a call and schedule your practice days & times.